Yun-Haus Berlin
Sakrower Kirchweg 47
14089 Berlin
The Yun House Berlin is the former home of the composer Isang Yun (1917-1995).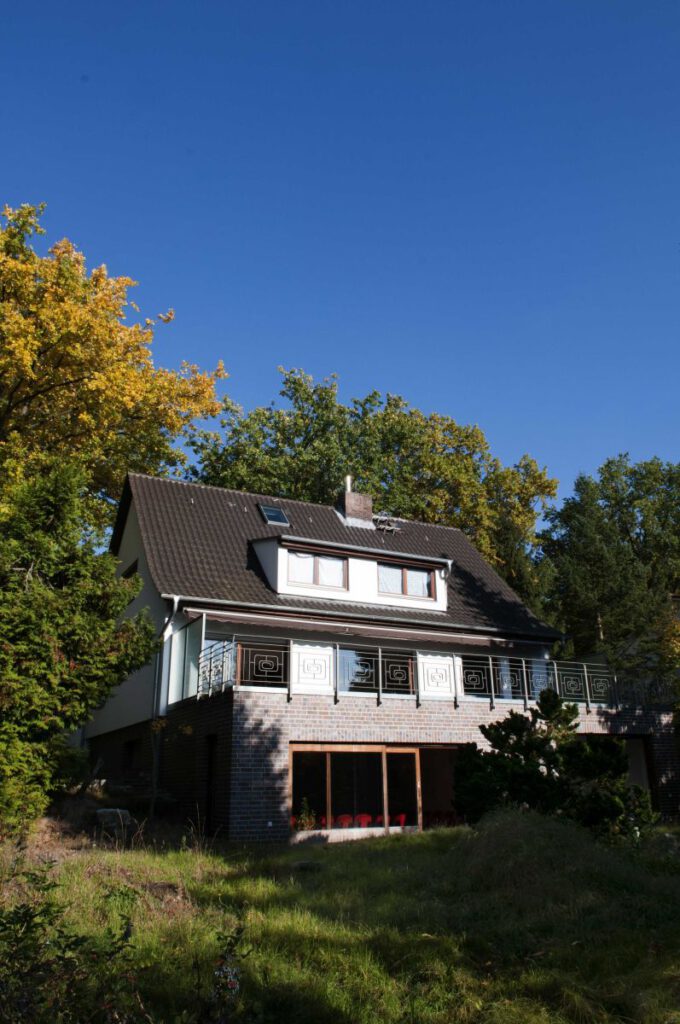 The Yun House can be reached by public transport:
Bus X34 from Bahnhof Zoo (direction Kladow-Hottengrund) or Bus 134 from S- or U-Bahn station Spandau (direction Kladow-Hottengrund).
In both cases the stop is called Gößweinsteiner Gang.
Follow Gößweinsteiner Gang – about four minutes walk (downhill: towards the south, towards the water = Havel, Wannsee) – until you reach the crossing Sakrower Kirchweg. House no. 47 is a corner house.
Yun House 2011
Photo: Mario Tsukasa
History
Isang Yun purchased the property on the Sakrower Kirchweg in 1971. He used the wooden house located there for composing but continued to reside in his Berlin-Spandau apartment on the Steigerwaldstraße. In the following years, a new building was erected above the wooden house, that became the permanent residence of Yun, his wife, and their children beginning in 1974 or early 1975.
After the composer's death the house remained in the possession of the Yun family until May 2008, when it was purchased by the Isang Yun Peace Foundation of Seoul and with support from the South Korean Ministry of Culture. The original intention behind this purchase was to preserve the house as Isang Yun's place of residence with museum rooms, to establish an Isang Yun Archive there, and to use it for cultural and scholarly purposes.
The house was rebuilt from the summer of 2009 to early 2011. Its festive opening with the lecture series "Reading Korea: On Korean History and Culture" was held on 17 September 2011. Six events were held through to June 2012, and each lecture was preceded by the performance of a composition by Isang Yun. At the same time a permanent exhibition documenting the life and work of Isang Yun had been set up in the hall.
However, the Isang Yun International Society of Berlin did not have sufficient funds of its own to maintain the house, and for political reasons the Isang Yun Peace Foundation no longer was receiving support from within South Korea. An appeal for donations by the Isang Yun International Society and publications in the Korean press went unnoticed. The house was partially cleared out at the end of 2012 and completely emptied at the end of 2015.
The house reopened on 20 June 2018 under the direction of the Isang Yun Peace Foundation of Seoul and Dr. Jin-Heon Jung. At the time the idea was that the house would function primarily as a place where students and scholarship recipients could live and work.
Since March 2020, the Isang Yun International Society, represented by Walter-Wolfgang Sparrer, has been taking care of the revitalization of the house. For the Society's projects in the house, see Events Yun House Berlin and Video Channel.