"A composer cannot view the world in which he lives with indifference. Human suffering, oppression, injustice… all that comes to me in my thoughts. Where there is pain, where there is injustice, I want to have my say through my music.ˮ

Isang Yun (1983)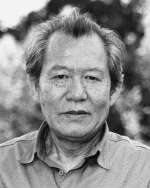 Isang Yun's oeuvre rests upon the flexible, vibrant tone of his native country's traditional music. Yet in the integration of dodecaphony and "developing variation" into his own "main-tone technique", Yun's music is also rooted in the European tradition. His composing manner blends eastern and western elements into a unique personal style, into the art of gliding transition in the spirit of Tao.
Isang Yun was born on September 17, 1917 near the southeastern seaport Tongyông, at a time when the Korean peninsula was under Japanese occupation. Yun took part in the resistence against Japan, and in 1943, he was imprisoned and tortured. After receiving the Seoul City Culture Award in 1955, he was able to study in Paris and Berlin from 1956 to 1959. In Berlin he studied with former Schönberg-disciple Josef Rufer, learning how to compose "with twelve tones related only to one another". From Germany, Yun was able to establish contact with and was a part of the international avant-garde.
His Buddhistic oratorio Om mani padme hum met with broad resonance in 1965; the premiere of the orchestral Réak at the Donaueschingen Festival in 1966 lead to his international breakthrough. In 1967 Yun was abducted form Berlin to Seoul by the Korean secret police, and was tortured and charged with high treason. In a political show trial he was sentenced to life imprisonment in the first instance, but released in 1969 after international protests. In 1971 he became a German citizen.
From 1969 up to and including the summer semester of 1971, Yun held a teaching position in composition at the Hochschule für Musik in Hanover. From 1970 to 1985 Yun taught composition at the Hochschule der Künste Berlin, from 1974 on as honorary professor and since 1977 as full professor. His oeuvre includes more than a hundred works, among them four operas and a number of instrumental concertos. In the 1980s he composed a series of five major, interrelated symphonies; during that period Yun also developed a new tone in his chamber works, which are characterised by the striving for harmony and peace. At the same time, reconciliation on the Korean peninsula was his political goal.
Isang Yun died on November 3, 1995 in Berlin, and was interred in a grave of honour provided by the City Senate (Landschaftsfriedhof Gatow). His grave was moved to Tongyeong in spring 2018 at the request of the composer's family.
Yun was a member of the Academies of Arts in Hamburg and Berlin, honorary member of the International Society for New Music, held an honorary doctorate from the University of Tübingen, and was awarded the Goethe Medal of the Goethe Institute and the Grand Cross of the Order of Merit of the Federal Republic of Germany.